1.75mm PLA Filament Natural Color for 3D Printers, Rohs Compliance,1kg Spool, Dimensional Accuracy +/- 0.03 mm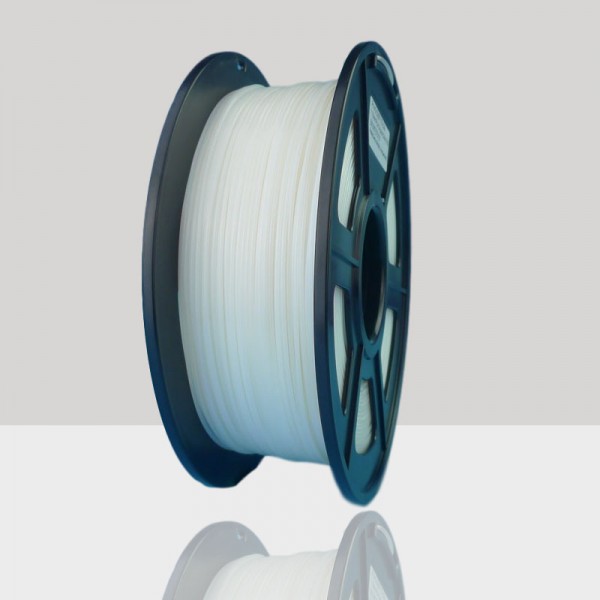 PLA filament 1.75mm Natural Color for 3D Printers, 1kg(2.2lbs), SKU:K0100ST175-C0A
With SunTop PLA filament, 3D printing is no longer a trouble task. We manufacture the most consistent filament that is compatible with nearly all 3D printers. With more than 10 years of plastic extruding experience and quality control standards, all SunTop filament is manufactured to produce the highest quality 3D prints.
KEY FEATURES
SunTop PLA filament helps to produce high quality prints, minimize filament problems.
SunTop PLA filament does not cause nozzle clogs and reduce stringing.
PLA printed objects have a smooth look and feel.
Great adhesion to the print bed and between layers.
Uniform diameter
Great melt flow rate
100% NatureWorks PLA Resins
PRIOR TO PRINTING
Build plate of your 3D printer needs to be level, clean and oil-free
COMPATIBILITY
Our PLA filament is compatible with nearly all 3D printers, including Ultimaker, MakerBot, Flashforge, XYZ printer, Lulzbot, Zortrax, etc.
PACKAGE
Spool dimensions: 200mm total diameter x 54mm hole diameter x 65mm height
Box size: 21x21x7.5cm
Net weight: 1kg/spool(2.2lbs)
Shipping weight: 1.4kg
Vacuum sealed with desiccant, anti-moisture and anti-dust
OPERATING ENVIRONMENT
Store PLA filament in a dry and cool place because it can absorb moisture from air. We recommend keeping PLA filament vacuum sealed until you are ready to use it because long term exposure to humidity can compromise filament quality and performance.
APPLICATION OF PLA FILAMENT
For beginner
Parts that will not be bent or twisted
Parts that will not be placed in direct sunlight
Prototype parts
Specification
Diameter
1.75mm
Material
PLA
Printing Temp.
190 to 220 degree
Print Bed Temp.
0 to 60 degree
Color
Natural
Technical
Density
1.24g/cc
Melt Flow Index
12g/10min.(190 degree, 2.16kg)
Features
Enclosure
Optional
First Layer Adhesion
Excellent
Odor
Little to None
Flexibility
Brittle
Heat Resistant
No
Biodegradable
Yes
Post-processing
Cut, filed, sanded, painted(with acrylic), glued